High Rise Living
Dallas Home Design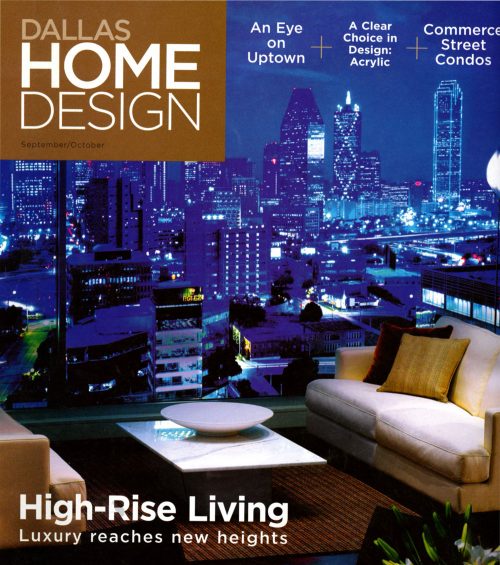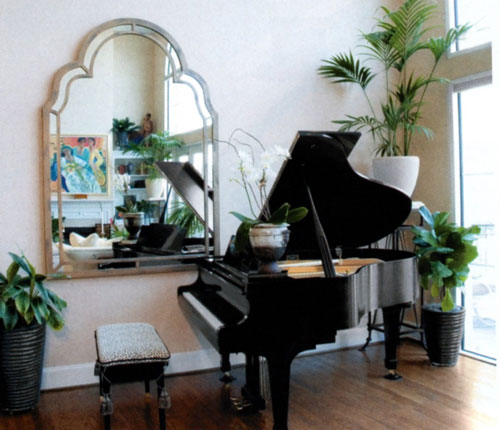 Close your eyes and throw a rock just about anywhere downtown or Uptown these days, and there's a good chance you'll hit a residential high-rise project on its way up.
More than three dozen projects are under construction or now open, with more on the way. According to the North Central Texas Council of Governments 2030 Demographic Forecast, downtown Dallas "may change more over the next 30 years than any other area of its size in the region. Historic office buildings will continue to be reshaped into mixed-use residential towers…as a self-sufficient, livable downtown emerges." Residents agree that Dallas hasn't seen anything like this since Turtle Creek was developed in the 1950s.
"I'm a native Dallasite, and it's so much fun to go downtown now and see all the building projects going on after not seeing the skyline change for literally decades," says Nan McCoy, a resident of the Mansion-managed Plaza at Turtle Creek.
McCoy, who also lived for five years at The Warrington before moving into her current home, is a longtime fan of high-rise living. "I love the security and all the amenities it offers," she says. Her current three-bedroom, two-level, 3,434-square-foot pent­house suits her perfectly. "I really enjoy the open floor plan with all the windows and the large terrace that's great for entertaining."
In today's market, many of the projects that are selling out the fastest are the ones associated with luxury hotels. The north tower residences at the W Hotel were virtually sold out at press time, and the south tower will be approximately 75% committed by September, according to residential sales manager Deven Barry. The Ritz-Carlton also set a record pace in selling out its Phase 1 residences, and business has been brisk at properties such as the much­ anticipated Hotel Palomar and Azure.
McCoy believes it's those properties that will continue to attract buyers long-term. "The service level that luxury hotels can offer residents really makes life so easy and enjoyable," she says.
Although she loves the space she is in now, McCoy recently decided to put the property on the market in order to move to another residence—in the same building!
And while the big question on everyone's mind has been "who's going to live in all of these high­ rises?" many industry professionals like what they see in the market. "There's been speculation that we are overbuilding, but I see no evidence of that. The absorption rate seems to be right on target, and the high-quality properties are being snapped up very quickly," says Lynda Adleta, owner of Adleta Fine Properties. 
The early success of the downtown Metropolitan has helped pave the way for the new wave of high-rises, according to Carl Conedera, a realtor with Uptown Dallas Residences.
"Most of my clients are aged 28 to 40, and they want to be either downtown or Uptown…close to the action," he says. "The projections we're seeing are that the population in those areas will double in the next five to six years. With the younger professionals, there is more of a demand for contemporary design, while the empty nesters will continue to head towards more traditional urban areas like Turtle Creek."
That's certainly true for residents like McCoy, who prefers the classic elegance of Dallas' original Gold Coast despite the many exciting options now reshaping the downtown skyline. "They're not making any more Turtle Creeks," she maintains. "This area will continue to remain the most beautiful section of the city."