Remember when

you were a kid and "outdoor living" meant camping in the backyard, and

"outdoor

cooking" meant hot dogs on the grill?
The Outdoor Room continues to gain ground as a natural extension of a home's living space, as designers build custom-styled retreats for clients who increasingly want the same level of comfort and sophistication outside as in. "We've seen a tremendous increase in interest for outdoor spaces, particularly in loggias," says Mark Molthan, president of Platinum Series Homes. "In fact, the covered porch is almost a standard now for homeowners. Everyone wants and expects them.
"So much so, in fact, that the luxury builder now includes an outdoor family room with cast stone fireplace as part of his standard home plan. Molthan builds homes in a wide variety of price ranges, from $300-700k in the suburbs to $1-5 million properties in the Park Cities, Lakewood and Preston Hollow.
Molthan designed a number of extraordinary outdoor elements to help Dave Corriveau, founder of Dave and Buster's Restaurant, make his contemporary estate in Lake Forest an indoor-outdoor haven. "My philosophy is that a lifestyle can't be contained withinfour walls," says Molthan. "We design homes that offer a total living experience."
That means finding a way to enjoy the outdoors year-round, even in the worst Texas heat. Towards that end, the Corriveau's patio was designed with an outdoor cooling and mosquito control system that cools the front porch area and arbor, along with speakers in the trees and adjustable low-voltage lighting.
URBAN OASIS
Outdoor living is big business. According to the Hearth, Patio & Barbecue Association, in 2004 homeowners spent $200 billion-twice as much as was spent on new-home construction-on remodeling and renovation, a third of which was for outside amenities. Nationwide, consumers spent $3.2 billion on new outdoor furniture in 2004, $40 billion on landscaping and garden upgrades and $20 billion on pools and spas, the association reports.
As with many other trends, the interest in outdoor living spaces began among luxury high-end homes and then trickled down to mass homebuilders and almost all price points. "I've been in this business for 30 years, and I've never seen anything like the current explosion of interest in outdoor rooms," says Harold Leidner, president of Harold Leidner Company Landscape Architects.
As the line between indoors and outdoors becomes increasingly blurred, Leidner adds, it's critical to plan for a natural flow between the two areas during the planning and design process-"one that merges with the architecture of the home seamlessly-while taking into account the topography and size of the lot," he says. In the custom market, the finish-out on luxury outdoor spaces can cost as much or more than that of an interior room. Amenities often include complete outdoor kitchens, running water and electricity, stereo systems, plasma televisions, and bathrooms and showers. Enclosed living rooms often feature deep seating, fabric-covered furniture made of teak or cedar, imported rugs, and artwork and architectural elements. Water features are popular, as are ceiling fans, specialty lighting and outdoor lamps, misting and cooling systems, and mosquito-repellent systems.
Natural materials such as granite, limestone and Pennsylvania bluestone continue to be preferred outdoor materials for many homeowners, according to Carolyn Henson, spokesperson for George Lewis Custom Homes, which builds and remodels luxury homes in the $2-6 million range. "What we're seeing is that clients want to take all the comforts of their living room outside," she says.
EXPANDING THE CHARM OF AN OLDER HOME
When Korbin King and David Hudgens first saw the 1920s-style Tudor in picturesque Kessler Park, they knew they had found a diamond in the rough. Boasting mature pecan, cedar and live oak trees. it offered a large backyard and was situated in one of the most charming areas of Dallas, with hilly topography and an eclectic mix of both grand mansions and Tudor cottages.
"We love the character of old houses, and we saw the potential that this home had to be something really special," Hudgens says. "Our goal was to design a backyard that we could enjoy year-round. And particularly since we don't have a huge 5,000-square-foot home, we wanted to enjoy all the space we had."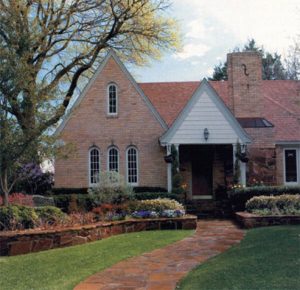 Towards that end, the pair took on several major renovations, basically remaking the entire backyard into one large outdoor room. They changed the garage from a front-entry to a rear-entry, pulling up massive amounts of concrete in the process and laying a new foundation facing the alley. A wooden deck, pool, outdoor kitchen, and extensive landscaping were added.
The oversized outdoor kitchen quickly established itself as the popular "hanging out" spot for family and friends who stop by to visit. "Last year on Memorial Day, we had five or six people in there working at once, with room for everyone to do their thing," says Hudgens.
In fact, the outdoor kitchen has arguably become the most important "room" in the house, since the indoor oven is now used rarely, if at all. Breakfast, lunch and dinner are generally prepared outside.
The kitchen was developed in collaboration with and built by Todd Lueke, president of The Dal-Rich Company, Inc. "We knew we needed something covered, because when you're grilling out in 100-degree weather, you want some shade," says Hudgens."Basically, we designed this space so that we never have to go inside the house for anything!"
With their organic oasis ever-evolving, the homeowners are already making plans for the next outdoor creature comforts. Next up: an outdoor fireplace, deep-seated furniture to complete their Ten Art collection, and a complete outdoor lighting package. Plus, at least one more must-have is already on the horizon: "Have you ever seen those outdoor televisions that can withstand rain and other elements?" asks Hudgens enthusiastically."I was thinking …wouldn't it be great to have one of those outside when you feel like watching a movie … "
THE LANDSCAPER'S CHALLENGE
While building a dream home for any client always demands a lot of problem-solving, occasionally the topography  itself proves to be the major hurdle to overcome.
"Difficult doesn't even begin to describe this project," says John Hoover of Prime Landscape Services about the landscape he completed that recently scored a Silver Award in the 2005 Texas Excellence in Landscaping (TEIL) awards competition (Residential Installation over $50,000).
After the builder provided the initial drain system, Hoover added several hundred feet of lateral systems, including extensive French and surface drainage systems.
In the areas of the outdoor space where retaining walls were necessary, the client insisted that they be unique. "Our preference would have been to embed the hill with boulders and plantings, but the elevations and structural engineering necessitated a vertical wall with extensive drainage pipe and aggregate backfill behind it," says Hoover. The eventual compromise: construct a boulder face for the wall interspersed with plantings and a waterfall, and transition the boulders into the stone work on the exterior of the house.
Since the homeowners wanted their personal collections incorporated into the outdoor design, Prime Landscape transported art, statuary, pottery, unusual stones, and even some favorite plants to the site. "The client's eclectic tastes and desire to incorporate things such as the old street bricks led to creative blending of disparate elements," he says. A large number of perennials were used, and privacy screening was created through the use of large holly and wax myrtles.
Throughout the process, constant changes and decisions were coordinated with the homeowner, architect, builder, and engineer, "with the goal of creating a unique and beautiful space for an exceptional and demanding client," says Hoover.